OWN THE SPECIAL EDITION "JURASSIC PARK III" DVD TODAY!!!
WELCOME TO JURASSIC PARK
=
PLEASE NOTE: THE POLL AND NUMBER OF HITS HAS ACCIDENTALY BE RESET SO DONT THINK NO ONE VISITS THIS SITE.
-DREW-YOUR WEBMASTER
l
L
O
L
a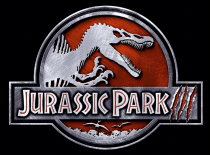 11/19/01
2 DAYS TILL TURKEY-DAY!!!
BY THE WAY THAT CRAPPY, I-SPEND-MONEY-FOR-CRAP-SPECIAL-EFFECTS MOVIE "HARRY POTTER" BROKE "THE LOST WORLDS" 2 DAY GOSS RECORD OF 72 MILLION WITH AN ASTONISHING 93 MILLION
11/16/01
(UNEXCITED "YAHOO!!!".) "HARRY POTTER" OPENS TODAY. OH JOY ....NOT!!!
11/11/01
NO NEWS REALLY. EXCEPT THAT MORE PEOPLE ARE STARTING TO SEE THE "JP3" DVD ADVERTISEMENTS ON THEIR TV'S
11/7/01
I SAW THE FIRST "JP3" DVD ADVERTISEMENT TODAY DURING "HALLOWEEN 2" ON USA.
10/31/01
HADDONFIELD, ILLINOIS
OCTOBER 31, 1978
I JUST LOVE THE MOVIE "HALLOWEEN" AND A HAPPY HALLOWEEN TO YOU!
10/25/01
NO NEWS THIS WEEK :(
10/20/01
GREEEEAT NEWS!!!
WE'RE THE FIRST TO REPORT ON THE BONUS FEATURES FOR THE "JURASSIC PARK FRANCHISE" DISC. SOME OF THE MANY EXTRA FEATURES ARE: "Presented on a single dual-layer disc, the total runtime for all the content included is 126 minutes, and is a series of featurettes and vignettes broken down into three sections, one for each film... 'Steven Spielberg Directs Jurassic Park' is a 9-minute montage of shots of the master at work... 'The Hurricane On Kauai' featurette runs a meager 3 minutes and documents the big hurricane that nearly wrecked the entire Jurassic Park shoot. This offers some nice background on the production, and features interviews with Spielberg and the crew as well as some humorous footage of a very scared cast and crew cowering from the impending disaster. Finally, 'ILM And Jurassic Park: Before And After The Visual Effects' is a nicely edited 6-minute piece with before and after shots of key Jurassic set pieces, with and without effects.
'Interview with Michael Crichton' [is a] discussion on both the first film and its sequel. Crichton recalls his inspiration for the original source novel, his approach to the sequel, and the often less-than-satisfactory transition from novel to screen. A nice little interview, too bad there wasn't more of it! Next up is 'ILM And The Lost World: Before And After The Visual Effects'. Here we get a robust 20 minutes of before and after clips of the film's big set pieces, again well edited and paced. Finally, we get the 2-minute 'Compie Dance Number: Thank You Steven Spielberg', a never-before-seen, cute little present the gang at ILM cooked up for Spielberg, complete with dancing compies. Fun.

"JURASSIC PARK III" AND ALL THE FILMS ARE AVAILABLE FOR PURCHASE ON DECEMBER 11. PREORDER NOW AT AMAZON.COM WITH THE LOWEST PRICES

10/15/01
SORRY
THAT THERE IS NO NEW NEWS. UNIVERSAL HASEN'T SAID A WORD ABOUT THE "JP3" DVD IN OVER 10 DAYS AND THERES NOTHING. BUT REST ASSURED I WILL CONTACT THEM AND TRY TO FIND OUT THE SPECIAL FEATURES ON THE BONUS "JP TRILOGY" DISC
10/9/01
NEW TV SPOT,PICS.,AND CLIPS
JUST ADDED NEW PICS TO THE "JP3 GALLERY", "THE SURVIVOR TV SPOT" IN THE MEDIA GALLERY AND ALSO A CLIP FROM THE MOVIE "SPINO VS. THE PLANE" (1:01)
10/4/01
DVD MENU SHOTS
WE ADDED A NEW PAGE CALLED "JURASSIC PARK 3 DVD MENUS"
WHERE WE POSTED THE MENUS FOR THE UPCOMING DVD. THE MENU PICS ARE CRAP, BU LETS HOPE THESE ARE JUST RUMORED ONES
10/3/01
DVD ADVERTISEMENT
UNIVERSAL SENDS WORD THAT THE DVD ADVERISEMENT FOR THE "JURASSIC PARK 3" DVD SHOULD POP UP AROUND MID-OCTOBER.
ONE OF THE RUMORED TAGLINES FOR THE ADVERISEMENT IS:
"THIS CHRISTMAS, EXPERIENCE THE WONDER, THE MYSTERY, AND THE ADVENTURE, LIKE NEVER BEFORE-"JURASSIC PARK III" OWN THE SPECIAL EDITION DVD OR VHS DECEMBER 11"
10/2/01
I.O.A. NEWS
JPAFTERMATH.COM ALREADY BEAT US TO IT. BUT THE PEOPLE OF JURASSIC PARK HAVE INSTALLED ALMOST A FULL SIZE ANIMATRONIC SPINOSAURUS TO THE RIGHT OF THE GATE FOR THE "JURASSIC PARK" RIDE

10/1/01
HALLOWEEN!!!
NOT JP RELATED BUT "HALLOWEEN 4" AND "HALLOWEEN 5" ARE AVAILABLE FOR PRE-ORDER IN LIMITED EDITION TIN BOXES
9/25/01
4TH DISC NEWS
CONGRATS PEOPLE.UNIVERSAL ANNOUNCED THAT IF YOU BUY JP3 THEY WILL SEND YOU A BOX AND BONUS DISC TO COMPLETE YOUR OWN TRILOGY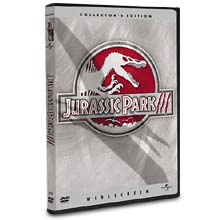 9/20/01
BONUS 4TH DISC
ON BARNESANDNOBEL.COM IT SAYS YOU CAN PRE0ORDER ALL 3 DVD'S IN A BOX SET, WHICH INCLUDES A BONUS DISC CALLED "THE JURASSIC PARK FRANCHISE"
9/17/01
OFFICIAL DVD COVER ART!!!
SOMEONE FOUND THAT COSTCO.COM HAS THE "JP3" DVD FOR PRE-ORDER. TO VIEW THE OFFICIAL DVD COVER ART



9/13/01 DIFFICULTIES!!!
SORRY WE'VE BEEN DOWN FOR THE PAST 2 DAYS WE'VE HAD SOME PROBLEMS BUT NOW WE'RE BACK!!!



9/11/01 DVD ANNOUNCED!!!
UNIVERSAL CONFIRMS THAT THE "JPIII" DVD WILL HAVE: AN AUDIO COMMENTARY BY DIRECTOR JOE JOHNSTON AND CAST,THEATRICAL TRAILERS,CHAPTER SEARCH,ENGLISH-SPANISH-FRENCH SUBTITLES,MAKING OF JP3,TOUR OF STAN WINSTONS STUDIO,"THE NEW DINOS OF JP3" FEATURETTE,DELETED SCENES,PRODUCTION NOTES,CAST-FILMAKERS,STORYBOARDS,AND MORE!
****PLEASE NOTE**** THE DVD'S WILL BE RELEASED IN A BOXED SET FOR $76.99 WITH POSSIBLY A BONUS DISC

9/9/01 GRAND OPENING!!!
HI WE JUST OPENED TODAY, SUNDAY SEPT. 9!!! HOPE U ENJOY THE SITE!!!
AN UN-RELEASED POSTER CONCEPT